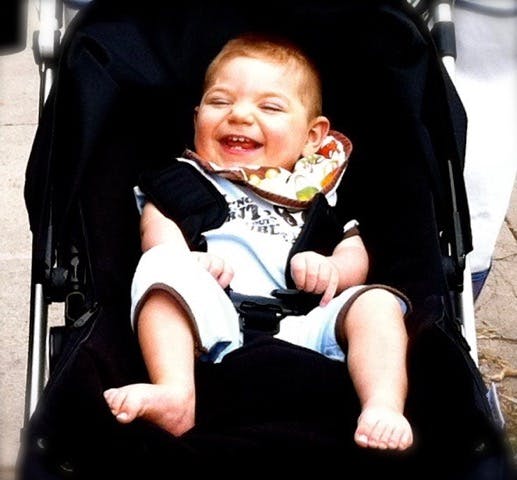 Our Experience with Pediatric Craniosacral Therapy
October 8, 2019
Our Experience with Pediatric Craniosacral Therapy 
Early on in Carter's illness, he developed encephalitis as a symptom of the Parechovirus Type 3. Encephalitis causes swelling of the brain. When the swelling went down, the plates of his skull settled into an odd configuration. The Parechovirus resolved after a few weeks, but Carter was left with Traumatic Brain Injury and lost about 40% of his brain function from the damage it caused. His brain was unable to push the plates into the "normal" shape, a phenomenon common in children with brain injuries. 
Our pediatrician, Lindy Woodard, M.D., of Pediatric Alternatives in Mill Valley, California, suggested craniosacral therapy, a noninvasive form of bodywork that regulates the flow of cerebrospinal fluid. Dr. Woodard suggested craniosacral therapy might help relieve the pressure on the fascia tightening around Carter's skull.
On our first visit to Michelle Veneziano, D.O., in Mill Valley, California, she warned me that Carter - only twelve weeks old at the time - might cry upon the initial release. I lay him on the table and Dr. Veneziano applied gentle, targeted touch to his neck and skull. He let out a few mild whimpers, which quickly subsided. As she continued to press and release, his little eyes met mine. He looked as though he were saying, "This is pretty interesting."
After the first session, Carter slept better. After the third session, we noticed a significant shift. Before, his naps were short, and he never slept through the night. Now, he slept for hours at a time. We continued weekly sessions, and he developed a greater ability to calm himself, a result of what craniosacral therapists call the modality's ability to "balance the nervous system."
Craniosacral therapy was developed by Joseph Upledger, D.O., in the 1970s. Today, practitioners include physicians, naturopathic doctors, physical therapists and other healthcare professionals. During our sessions, I stood in awe of Dr. Veneziano's concentration and focus. She told me that craniosacral therapy requires the practitioner to undergo intensive training in sensory awareness so that they can be attuned to the responses of their patients. In her program, instructors would have students feel for a single strand of hair under several sheets of paper in order to develop their sense of touch. 
Benjamin Shield, PhD, who specializes in pediatric craniosacral therapy in Los Angeles, describes it as "simple and effective therapeutic techniques to help normalize the child's structure, balance the nervous system, and resolve traumatic issues of the birth and childhood experience. Early intervention with Pediatric Craniosacral Therapy can positively affect developmental, structural, sensory, learning, behavioral and personality disorders."
Craniosacral therapy can also be valuable to those of us caring for children with brain injuries. In the dark days after Carter's passing, I was fortunate to have several sessions that, in conjunction with acupuncture, allowed me to find moments of relief and rest. 
As Dr. Shield points out, the bond between the therapist and family is very important for effective treatment. "The skilled therapist works not only with the infant, but also with the family...It is like a Tai Chi: navigating moment-to-moment all of those in the room, what is needed, the changes that occur, and the feelings of what has occurred before the treatment. It is both a guiding of things to be and an allowing of things to happen."
I suggest visiting at least two practitioners in order to see who might be the best fit for you and your child. You can also find out more about the history of craniosacral therapy and how it works in our Treatments article.