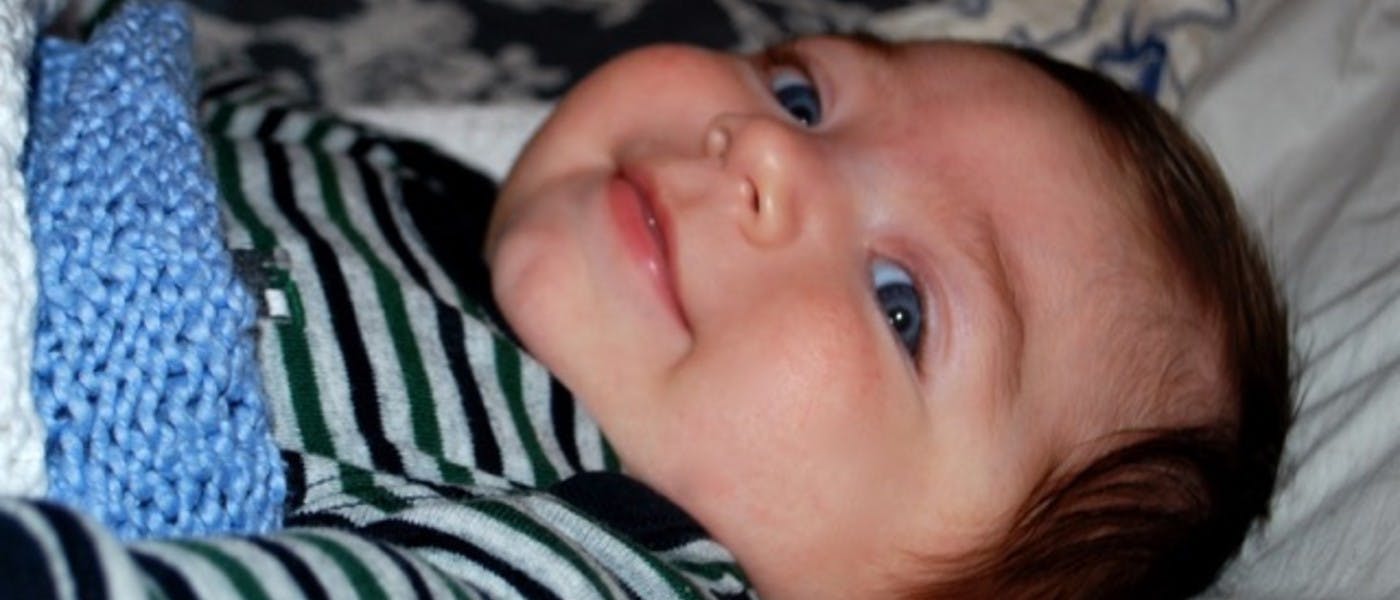 The Gift of My Son's Diagnosis
June 11, 2019
Less than eight weeks after giving birth to my son Carter, my husband Matt, Carter, and I found ourselves thousands of miles from our Kansas City home, in a waiting room in a nondescript strip of offices in San Rafael, California.
Carter had caught the rare Parechovirus Type 3 virus only days after his birth. The days and nights blended into each other as we made countless calls and internet searches looking for treatment options. The fear had dried up my emotions and hope. I moved through the days like a zombie, attending to Carter and doing the least I could to keep myself together.
That day, I lifted my gaze from my haze of anxiety to see the only two other people - besides Matt and Carter - in the waiting room. Across from us sat a beautiful woman with long brown hair in loose braids. On her lap sat an equally beautiful toddler boy with curly blond hair. When our eyes met, he reached towards me and lifted his hanging head up to smile at us. His heavy head and slow movements indicated he had special needs. "I loooove youuu," he said, looking right at me. My zombie-fied heart melted. This little boy - named Cypress, we would later learn - dragged me out of my sorrow and into the present moment for the first time in weeks.
Our journey to California started back in the hospital room at Children's Mercy Hospital in downtown Kansas City. As I stayed by my son's side day in and day out, my husband Matt feverishly researched. One evening he came across the Anat Baniel Method online, a movement method that takes "a holistic approach to rehabilitation from brain injuries using slow, intentional movement to 'wake up' the brain." Watching YouTube videos, he lit up with hope seeing Anat perform what seemed to us like miracles as she gently moved a little girl's arm, bringing life back into her body and face.
Matt had energy pumping through him as he handed me the iPad and said, "Look at this, what do you think? Do you want to move near this woman and have her work on Carter everyday? We could go there for six months maybe - what could it hurt? Wouldn't you like to live in San Francisco?" I just stared at him; I couldn't care any less at that moment about his excitement. I didn't care about anything, but Carter. "Sure, maybe," I told Matt.
***
The woman in the waiting room introduced herself. Her name was Amy. She probably recognized my despair, but her lightness and warmth indicated she's come out the other side. She asked me where we were from and I told her that we had just driven 26 hours from Kansas City as I clutched my infant closer. She told me the beautiful boy that was looking right into my soul was her son, Cypress. Matt and I squeezed each other's hands tighter and looked at each other. In Cypress and Amy, I saw a possibility for our family to regain our happiness and enjoy each other's unconditional love.
Cypress, Amy told me, had cerebral palsy. At that time, I didn't even know what cerebral palsy was. My experience with special needs children had been limited to walking by the designated "special needs" class in my high school, never imagining my child could be in that group. I was ignorant of the prevalence of childhood brain injuries and other special needs; I imagined that my relative youth, the health of my close family, and my uneventful first pregnancy meant my future children wouldn't meet with health challenges. Yet, more than 14% of all US children have special needs. That means that more than one-fifth of households with children have at least one child with a special need.
But my ignorance about special needs wasn't the only part of my world view that became jolted upon Carter's diagnosis. While my life had some speed bumps - including epileptic seizures and an unplanned first pregnancy - I was confident that I could handle whatever life threw my way. Matt and I had always tried to find the opportunity in every adversity. Unplanned pregnancy? God was telling me to start a family! When the financial crisis threatened Matt's property business, he patiently scoured listings, discovering hidden gems that the volatile market undervalued. We had always landed on our feet.
Until now. Until no one could give us the hope we craved. Until we saw strangers and our own friends and family withdraw from us, overwhelmed by our fear and their helplessness. In the same way I looked at special needs children with newly compassionate eyes, I also began to understand the weight of other tragedies whose impacts couldn't be lessened by hard work and optimism.
***
In the months after our first meeting, Amy and I became friends and I saw Cypress grow into a mighty fighter. He was told he would never do anything and it would be impossible for him to ever walk. Well, have a look at this video to see how far he's come. Amy and Cypress showed me that there was an alternative to my sorrow, that I might in fact be one of life's lucky ones - a mother warrior whose son was teaching her how to fight and how to be present for the gifts of the moment.
I know I probably sound crazy to call my time fighting for my son's life and recovery a gift, but it's true. My heart was so small before Carter. Now it's grown, with room for differently abled babies, children, and adults. I see Carter in all of them. My capacity for understanding, loving, supporting and caring about anyone at all besides myself has grown tenfold. Everyone needs to be seen, and deserves to be seen.
Carter taught me how to love so deeply that I would do anything for him - nothing stopped me, not my body's need for sleep, material things or a personal life - nothing. I loved him just the way he was and just the way he wasn't. Carter taught me to live in the moment with him everyday. He didn't care about anything besides right now. He learned slow and felt everything deeply - my touch, nursing, what he was eating. When he laughed my world stopped. He was just so happy.
I don't know how many times I have heard people tell me they couldn't believe how I handled everything and stayed so stoic and strong through it all. The truth is, I had a great teacher. I watched Carter every day work so hard for everything he did, just to get his hand to his mouth, to learn to nurse, to learn to eat, to go to the bathroom, to turn his head. If this little boy could fight on, so could I.
I started to remove all limitations from my life. My language changed; there was no more "I can't." His way of being impacted every decision I made. Would I move across the country with my 3-year-old little girl and my newborn son fighting for his life, with all of these unknowns and no family or support network, alone? Why not?! Would I spend every last penny on therapy time and time again? Yes, sign me up! Would I try anything? Yes, I would.
Carter passed away at twenty months of age, but his short life was enhanced greatly by the Anat Baniel Method; he played, he grew, he laughed. In the months we sat in that waiting room, we met countless families from all over the world. If God hadn't catapulted us on this journey, I know my life in Kansas City would never have included parents and children of such diversity and strength.
We thank Carter for the gifts of his life every day. He taught us how to have empathy for people going through anything difficult, not just brain injury. These days I wouldn't dream of blithely walking by the special needs class; I can now pick these kids out very quickly at my kids' schools, in the grocery store, at church. I now go out of my way to talk to them. I cherish the time we have to connect and enjoy the moment, remembering that everything is perfect when we're present.